Signal of the Month: Risk Radar
What's Next trends report publisher Richard Watson has compiled a matrix for assessing the probability and impact of global risks in a variety of STEEP categories (society, technology, economy, environment, and politics). Among his Risk Radar's "101 ways the world could change—or possibly end" and how concerned we should be: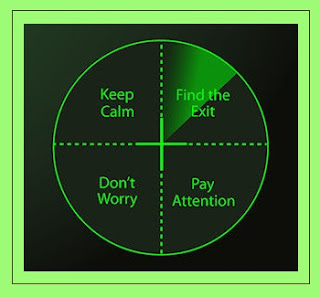 1. Don't Worry: African disunity, weaponization of near-space, moral collapse, decrease in longevity due to sedentary lifestyles.
2. Keep Calm: declining urban air quality, rogue politician, information overload, decline of practical skills.
3. Pay Attention: ocean acidification, robot uprising, globalization backlash, "OMG Kim Kardashian runs for US Presidency" (ranked higher in impact than "Failure of global governance").
4. Find the Exit: loss of biodiversity, income/wealth polarization, EU collapse, state-sponsored cybercrime, severe water shortages.
Watson assures us that the end of the world (or of humanity) is far from probable, and so he advises us to "drink lots of water, wear sunscreen and try to be a good human."
Details: Download the high-resolution Risk Radar infographic from Now and Next. Thanks to "signal" spotter Jay Gary.
Signals: risk assessment, STEEP analysis
Report: Arizona Comes of Age
The Center for the Future of Arizona (CFA) has released its report on the major challenges facing the state and approaches to meeting them, starting with more active communications between residents and their government leaders. Citizen participation rates in Arizona are in the bottom quartile nationally, notes the report, titled "Vision 2025: Arizona Comes of Age."
Describing itself as a "do tank" rather than a "think tank," CFA focused its report on creating a blueprint for action based on what citizens want for the future of the state: high-quality jobs, high-quality education and training for those jobs, and development to protect the natural environment while improving built infrastructures.
"Arizona has all of the elements right now to come of age," CFA director Lattie Coor told Arizona Public Media, adding that the state has the characteristics "that will make it one of the most significant, competitive places in the modern economy."
Source: Center for the Future of Arizona. Also visit Arizona Public Media.
Debatable Futures: Peak Car
Quoting DaVinci Institute senior futurist Thomas Frey as saying "wealthy economies have already hit peak car," Manhattan Institute senior fellow Mark Mills dismisses the assessment as "poppycock" in his October 1 Wall Street Journal op-ed.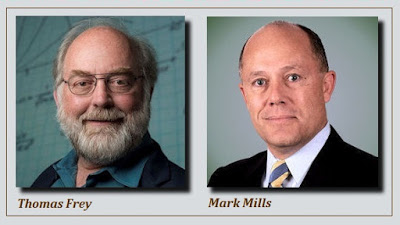 Frey and other trend watchers have observed the millennial generation's preference for urban lifestyles that reduce the need for car ownership. Such preferences have made possible the phenomenal rise of car-sharing services like Uber. But Mills cites recent upticks in millennials moving to the suburbs and buying cars, perhaps as a result of simply growing up and getting better-paying jobs.
Mills also argues that, as a society, the United States has not reached peak driving; rather, gasoline demand is approaching a record 9.2 million barrels a day.
Comment: Certainly low prices can account for today's accelerating demand for gasoline. One wonders whether—when such demand pulls prices back up—the millennials' robust affection for tech innovation and social networking will fulfill Frey's forecast in the long run.
What say you? Peak car: now, soon, someday, or never?
Read: "We're a Long Way From 'Peak Car'" by Mark Mills, Wall Street Journal (October 1, 2015).
Signals: automobiles, millennial generation, sharing economy, urban lifestyle, values
Futurists in the News
"Thank you, technology!" Part 1: Described as the Portland, Oregon, area's most-famous futurist, Intel's Genevieve Bell, vice president in charge of "Corporate Sensing & Insights," was interviewed about her work on computer-human relations for Willamette Week (September 22). One surprising moment in her research, she says, came when she found herself thanking a computerized device. "The timer went off, and I asked Alexa [Amazon Echo] to stop the timer," she says. "The timer stopped and I said, 'Thanks!' Then I went out of the house thinking, 'Oh my God, I'm a complete idiot.' And then I did it again a half-hour later." Read "Hotseat: Intel Futurist Genevieve Bell."
"Thank you, technology!" Part 2: Former "Microsoftie" and author Ramez Naam was among the technology futurists offering their views for a recent GeekWire panel on the pros and cons of technology. While acknowledging negative impacts of human progress, such as climate change, Naam said he is optimistic about the future: "In the last few decades we have cut poverty in half, hunger in half, more people live in democracy than ever before," he said. "It's undeniable to me that the world is getting much better. My best bet for 2030 is that the world will be substantially better than today." Read: "Asteroids, plagues and why science needs more sex appeal: Our futurists take on the good and bad in tech" by Molly Brown, GeekWire (October 2, 2015).
Upcoming Meetings: Of Living Rooms and Restaurants
The Electronic Living Room: New York Times futurist-in-residence Michael A. Rogers will deliver the opening keynote address at CEDIA Expo 2015, offering insights on the near-term future of home technology. Among the innovations homeowners can expect in their future living rooms, Rogers predicts, are floor-to-ceiling TVs offering virtual reality and telepresence—along with virtual shopping that he describes as the Home Shopping Network "on steroids."
CEDIA Expo 2015 will be held October 14-17 at the Kay Bailey Hutchison Convention Center in Dallas. Details: CEDIA Expo 2015. Also visit CE Pro.
Food Trends on the Menu: The National Restaurant Association will convene in San Diego October 27-28 for the Restaurant Innovation Summit. Among the futurists scheduled to discuss food innovations and trends are Edie Weiner, CEO of The Future Hunters, and digital futurist Amy Webb, founder and CEO of Webbmedia Group, who will serve a presentation on the top tech trends for restaurant operators.
The summit will explore innovative on-demand food-delivery services such as Postmates, Caviar, DoorDash and delivery.com, as well as data analytics for marketers and mobile-payment systems. And IBM's famed Watson, or "Chef Watson," will pair its "knowledge of food chemistry and taste preferences with what it [has] learned about recipes to generate new and unexpected flavor and ingredient combinations," according to a press statement. Details: National Restaurant Association
Mack Report: Africa 2030
The recent rise (and more recent decline) of China as an economic powerhouse has overshadowed prospects for Africa, observes AAI Foresight managing principal Timothy C. Mack in his latest blog. He writes: "Africa is expected to quadruple in population over the next 90 years, with its greatest economic and political growth likely in North Africa."
Companies such as Microsoft have thus become more actively engaged in Africa's development, focusing not only on Africans as consumers but also on developing the population as workers and investment partners. Read Africa 2030.
Signals: Africa, developing economies, education, technology