WFSF Names 2017 Futures Fellows
The World Futures Studies Federation has named 15 new Futures Fellows, an honorary title that confers higher status of WFSF membership in recognition of significant contributions to the field and/or the organization. The 2017 honorees are:
- Guillermina Baena-Paz, IAPEM, Mexico
- Robert Burke, Futureware Consulting and Melbourne Business School, Australia
- Stuart Candy, Situation Lab, United States
- Patrick Corsi, Cayak Innov, Belgium
- Natalie Dian, Educating Futurist, Sweden
- Ted Fuller, Futures, United Kingdom
- Dana Klisanin, Evolutionary Guidance Media, United States
- Tom Lombardo, Center for Future Consciousness, United States
- Pero Micic, Future Management Group, Germany
- Victor Vahidi Motti, Vahid Think Tank, Iran
- Erik Øverland, Subito, Norway
- Mei-Mei Song, Tamkang University, Taiwan
- Maya Van Leemput, Agence Future, Belgium
- Verne Wheelwright, Personal Futures Network, United States
- David Lindsay Wright, Text-Tube Futures Studio, Australia
"All the new Fellows far exceeded the minimum requirements set out in the current WFSF Constitution," the organization states on its website. The 2017 fellows join 30 previously recognized WFSF members who were selected on the basis of their professional futures activity and original contributions to the knowledge base of futures studies.
Source: World Futures Studies Federation.
Seasteading: A Blue Revolution or a Bluetopia?
Book Review by Randall Mayes
Seasteading: How Floating Nations Will Restore the Environment, Enrich the Poor, Cure the Sick, and Liberate Humanity from Politicians by Joe Quirk with Patri Friedman. Free Press/Simon and Schuster. March 2017. 384 pages. $27. ISBN 9781451699265.
In Seasteading, Joe Quirk and Patri Friedman of the Seasteading Institute envision a new frontier—a future with homes and even cities located on the oceans. The idea of living on the ocean does not appeal to everyone, and many are skeptical.
Although it is not a novel idea, the authors have acted on their vision by developing The Floating City Project. Its three primary objectives are to provide evidence of market demand, produce designs and a feasibility study, and find host nations to harbor and offer political autonomy within their protected, territorial waters.
In the book, the authors provide interesting discussions of the feasibility study, which outlines a business model and proactively addresses the concerns of skeptics. The Dutch firm DeltaSync performed the study, which was funded by philanthropist Peter Thiel and crowdfunding and is posted on The Seasteading Institute's website.
For those who are drawn to the concept, it is typically for two reasons. One is that 2050 is the estimated date when the Earth's population reaches 8 billion. From a societal perspective, some people are interested because of the related issues with food, water, energy, and rising sea levels. Since we are running out of land, alternatives are appealing. Water covers over two-thirds of the Earth's surface. On several occasions, the authors refer to the Earth as "Planet Ocean."
The other reason is an increasing discontent with politics and government. Those who have given up on the idea of their government changing are intrigued by the possibility of living in an autonomous seasteading community.
Fortunately for the authors, they did not have to start engineering their seastead community from scratch. Research by oil and gas companies for platforms and by the cruise ship industry, along with maritime law, provided a framework upon which they could adapt seastead communities. Graphics from the design contest for seastead communities are also available on The Seasteading Institute's website.
For platform structures, the construction companies will use three main materials—steel, composites, and concrete. Why concrete? It is durable, and since steel corrodes, the concrete can shield the steel from the harsh environment. With its low center of gravity, it also provides stability. For those concerned about hurricanes and tsunamis, Shell engineers have built what is the currently the largest floating structure that can withstand Category 5 weather conditions.
In certain parts of the world, pirates are a concern. While the authors cannot be responsible for crimes and acts of terror, they partner with countries with sites that are protected and advise others to avoid seasteads in areas such as the Somalia coast.
For the initial host country, the French Polynesian government has signed an agreement with The Seasteading Institute to create a legal framework for the development of The Floating Island Project. The Seasteading Institute has formed Blue Frontiers to construct the Floating Island Project, which will also advance French Polynesia's Blue Economy initiative and provide a backup plan for countries such as Tahiti as sea levels rise.
While oil company platforms and cruise ships currently provide amenities such as medical services, other aspects of seastead living remain experimental. Seasteading could accelerate innovation in Silicon Valley for self-sufficient and sustainable food systems such as aquaculture and hydroponics. It could also speed up the development of bioengineered microbes to produce fuel, increase the yield of sea plants, and abate pollution. In the future, the authors expect seastead communities to power themselves almost entirely with renewables, such as solar, wind, and wave energy.
Similar to the settling of the western United States, thousands of individuals could potentially migrate to seasteading communities. Initially, the purchase of housing units could be relatively expensive, and banks would probably not be eager to provide financing. Rather than purchasing a unit, some communities could provide the option for modular and mobile platforms with living quarters for renting.
Each future seasteading community/city will have its own unique personality. For permanent seasteaders, citizenship is a complex legal issue. Depending on their home country's laws, they could either retain their citizenship and pay taxes or renounce it. The authors do not discuss how employment, taxes, or public amenities that governments traditionally provide might work in seasteads. Attorneys and legal scholars have designed a portfolio of possible legal systems. Rather than assess these constitutions themselves, the authors will let seastead communities determine which ones attract immigrants.
Randall Mayes is a technology analyst and author of Revolutions: Paving the Way for the Bioeconomy (Logos Press, 2012). He may be contacted at randy.mayes@duke.edu.
Resources
The Floating City Project feasibility study.
"Government of French Polynesia Signs Agreement with Seasteaders for Floating Island Project" (January 17, 2017).
New Future Fiction and Nonfiction
- The Future: A Very Short Introduction by Jennifer Gidley, president of the World Futures Studies Federation and adjunct professor at the Institute for Sustainable Futures at UTS Sydney. Oxford University Press, March 2017. An overview of how we came to view the linearity of time, extend it forward in order to predict or control it, and imagine a multiplicity of outcomes. Concludes with an exploration of "the grand global futures challenges."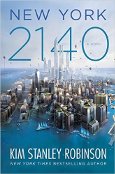 - New York 2140, a novel by Kim Stanley Robinson, multiple-award-winning and bestselling science-fiction author. Orbit/Hatchette Book Group, March 2017. Rising sea levels have turned the streets of New York into canals and its skyscrapers into islands.
- Walkaway, a novel by Cory Doctorow, co-editor of Boing Boing. Tor/Macmillan, April 2017. A science-fiction thriller envisioning the possibilities for a post-society utopia.
When Lt. Uhura Met MLK
Commentary by Cindy Wagner
Speaking of books, I highly recommend last year's extraordinary Hidden Figures by Margot Lee Shetterly (William Morrow, 2016). Though it is a book about history—the role of African American women "computers" in the late days of Jim Crow and the early days of aerospace research—it is also an inspiring story about future-making on many levels.
One passage that surprised me touches on the impacts of science fiction and popular culture. Shetterly tells the story of Star Trek actress Nichelle Nichols (Lieutenant Uhura), who handed creator Gene Roddenberry her resignation in 1967 after only one season on the television series so she could return to her Broadway career.
Then she met Dr. Martin Luther King Jr. at an NAACP fundraiser. "You can't leave the show," King told the actress. "We are there because you are there."
Shetterly writes: "Black people have been imagined in the future, [King] continued, emphasizing how important and groundbreaking a fact that was.... 'This is not a black role, this is not a female role,' he said to her. 'This is a unique role that brings to life what we are marching for: equality.' … Nichols returned to Gene Roddenberry's office on Monday morning and asked him to tear up the resignation letter."
And the rest is science and social future history. —CGW