The global futures community was saddened to learn that futurist pioneer Joseph F. Coates (born January 3, 1929, in Brooklyn) died on October 16, 2014. He is survived by his wife of 62 years, Vary (nee Taylor) Coates, many children and grandchildren, and countless students and mentees.
Coates was trained as a chemist, earning his Master of Science from Pennsylvania State in 1953, after which he did postgrad work at the University of Pennsylvania (1953-55). As a research chemist, he worked for Atlantic Refining Co. in Philadelphia (1953-60) and was chief chemist at Onyx Chemical Co. in Jersey City (1960-61).
He then turned to serving the public sector, becoming the staff scientist for the Institute for Defense Analyses in Arlington, VA (1961-70), project manager for the National Science Foundation (1973-74), and assistant to the director of the Office of Technology Assessment for the U.S. Congress (1974-78), working with his wife, Vary, on using the tools of foresight to help policy makers understand the onslaught of technological change and its consequences. It was said that he was fired for telling the truth.
After working in both the private and public sectors, Coates struck out on his own as a futurist consultant, first as president of J. F. Coates Inc. (1980-92), then as partner with futurist Jennifer Jarratt at Coates and Jarratt Inc. in 1992. After two decades of consulting work, Coates retired but remained an active and highly visible presence in the futures community, taking on writing, speaking, and consulting assignments.
Coates's influence extends well beyond his own professional accomplishments, which include scores of books and professional publications. Indeed, he was one of the deans of the field of professional futurism, guiding the futures of many of today's foresight leaders.
"I first met Joe Coates formally at the after-party for the 1971 First General Assembly of the World Future Society in Washington, D.C.," said former WFS President Timothy Mack. "Although I had been working all week as the staff photographer for the conference, Joe didn't recognize me. He stopped me in the hall of the apartment of the Assembly Chair, John Gerba, and firmly insisted that I tell him who I was and what I was doing there. I guess I must have given him a satisfactory answer. We remained close colleagues for the next 43 years, with Joe serving as part of my 'kitchen cabinet' over my decade as President.
"I have to say that I never met a sharper mind (or a sharper tongue) in anyone, and his intellect was awesome," Mack continued. "He could think on his feet in any situation and his memory rivaled the Internet. He will be greatly missed, as there will never be another like him."
Millennium Project co-founder Jerry Glenn noted that Joe Coates "was part of the original steering committee for the Feasibility Study of the Millennium Project from 1992-1995." Coates was a "great force in futures analysis," he continued. "We will miss his wit and wisdom."
Others paid similar tribute via social media:
"You amazed us with your work, you confounded us with your wit, and you enlightened us with your wisdom." —Jay Gary
"I met Joe in April of 2007 at the office of World Future Society in Bethesda, MD, where he was cheerfully helping with the preparations for the 2008 WFS Convention of Washington, DC. He was a very dedicated futurist and contributed a lot to the discipline." —Sam Ghandchi
"A great loss to humanity." —Joanne Pransky
"Practitioner Futurist world says RIP to Joe Coates—big mind, big personality...my few interactions with him were memorable." —Garry Golden
"He was an important theorist, practitioner and mentor for many futurists." —Suzanne Stein
As a critical thinker and scientist (with 19 patents to his name), Joe became legendary for his impatience with weak or unoriginal thinking. Few who were on the receiving end of his sometimes dismissive barbs will forget the encounters with this giant among futurists.
Joe Coates stood on no one's shoulders. We stood on his.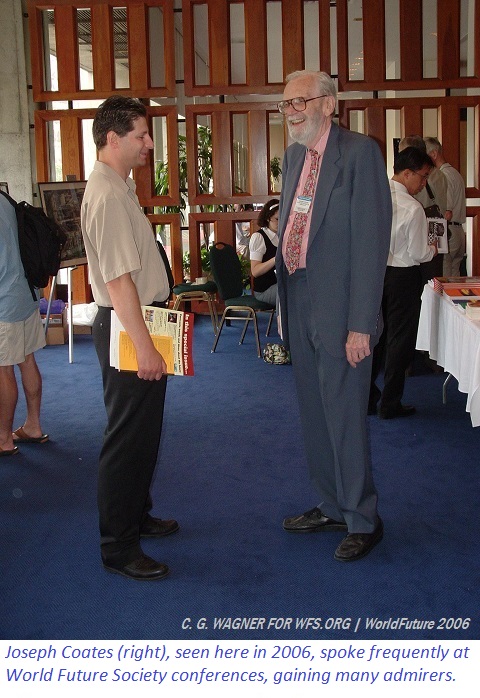 A memorial service will be held November 8, 2014, at 2 p.m. at Mt. Airy Mansion, Upper Marlboro, Maryland. In lieu of flowers, the family requests that friends consider sending donations in Joe's honor to Covenant House New York.
More information at www.josephcoates.com