The auto industry is clearly convinced that the question of autonomous vehicles is "not if, but when," writes Motor Trend technical director Frank Markus, reporting from a forum on Intelligent Transportation Systems in Detroit. Lux Research projects $87 billion in revenues by 2030. But the view is not so clear concerning how the longstanding legal guidelines around automotive liability will be affected.
Markus notes a number of relatively clear benefits of a working national system, such as reducing accidents by potentially as much as 95%, according to Bryant Walker Smith of the University of South Carolina law school. Other benefits: increased mobility for nondrivers, reduced fuel consumption, and intelligent driving patterns. On the other side of the coin, intelligent transportation systems could increase road use and congestion, reduce public transportation usage, and create an economic slump in, for example, auto repair services.
But one of the most interesting questions regards the sharing of roadways between autonomous and driver-controlled vehicles: If there are far fewer accidents, there will still be accidents, but probably fewer insurers to cover them. Who is responsible when accidents happen? Who pays? Rather than owners of autonomous vehicles taking out insurance (and paying premiums), would it fall on manufacturers to indemnify their products?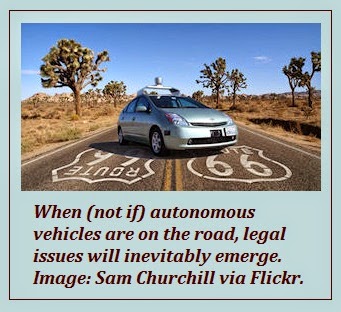 One possibility is public/private special compensation funds to underwrite unintended consequences, such as how AI chooses to mitigate damage in an unavoidable accident. Owners of older, non-autonomous cars might be required to financially subsidize the rollout of presumably safer autonomous vehicles and road systems. Of course, manufacturers' liability remains a toss-up in any court of law.
However, Markus reports, the RAND Corporation's James Anderson and the Brookings Institution have both cautioned about proactively resolving liability issues through legislation without longitudinal experience to rely upon because, as Anderson has said, "we get such legislation wrong a lot."
Timothy C. Mack is the managing principal of AAI Foresight.
Image credits: Google, Sam Churchill